Country Coordinators' Message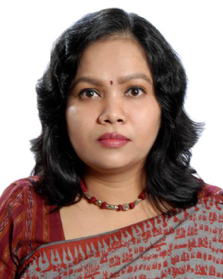 Dr. Sayema Haque Bidisha
Associate ProfessorDepartment of Econmics, University of Dhaka
It is indeed a great pleasure that South Asian Economics Students' Meet (SAESM) is going to reach its 14th milestone in Bangladesh in January, 2018. SAESM is a novel initiative which, in these years has acted as an important platform for the undergraduate economics student of South Asian countries to share their knowledge and exchange ideas in a rather informal setting. This year team Bangladesh is very excited and extremely happy to welcome delegates of India, Pakistan, Nepal, Bhutan, Sri Lanka and Afghanistan in Bangladesh. SAESM through an annual competitive event, provides the students with the opportunity to analyze the development prospects and challenges of South Asian region, which share much in common in political, economic, social and cultural spheres. This year's theme of SAESM are the Sustainable Development Goals (SDGs) and given the importance of SDGs for this region, this SAESM is expected to generate fresh ideas, innovative strategies and pragmatic policy guidelines to confront the development challenges of this region. In this two day academic event, students will sit for examination to test knowledge in economics, write papers, participate in debates and will interact through quizzes which will certainly help to broaden their horizon of knowledge and to strengthen the bond among themselves. Given that, in coming years these students will be the leading researchers, academicians, leaders and policy makers of the region, this event can play crucial role for the socio-economic development of this region. Personally, I consider myself fortunate to be part of this intellectual event. On behalf of team Bangladesh, I thank all the student participants, faculties as well as the sponsors of the event for their relentless contribution and support that has made this event possible. We also express our heartfelt thanks to the faculty members of the Department of Economics, University of Dhaka, Bangladesh for extending their support for this event. We would specially like to congratulate and thank SANEM- A leading think tank of South Asia for hosting this event at the historic city of Chittagong this year and to enable to continue the journey of SAESM uninterruptedly. I wish a productive and memorable time for the participants of the SAESM 2018 in Bangladesh and I am confident that in coming years SAESM will play an equally important role in spreading knowledge, exchanging ideas and thereby will contribute towards the betterment of the people of this region.
---
Student Team Leader's Massege
It is a matter of great honor and exultation for me to participate in and write on the occasion of 14th SAESM. This is the first time I'm going to participate in this prestigious conference. So, the level of excitement knows no bound. From the very beginning, SAESM has always served as a great platform for sharing knowledge, discussing problems and their potential solutions as well as for building strategies in the context of South Asia. What makes the 14th SAESM more captivating is that all the sub-themes of the conference are aligned with the 2030 Development Agenda, the SDGs. The young researchers are expected to identify the specific factors that hinder the evolution in various sectors and come up with various ways to achieve the 17 goals. I am looking forward to explore new ideas from my fellow undergraduates about the implementation of the SDGs to ensure sustained economic growth in this region. SAESM provides an opportunity to meet new people from the neighboring countries. It facilitates the young researchers to explore the different cultures and to strengthen the ties between them. I am excited to meet the undergraduates from the countries and to discuss about various contemporary global and regional issues and their probable economic solutions. I do want to gather knowledge and their views and ideas regarding 'One South Asia'. I would like to thank SANEM, the SAESM secretariat and a leading think-tank of economists and policy makers in South Asia which aims to promote the production, exchange and dissemination of basic research knowledge in different areas of Economics for organizing the 14th SAESM. I hope this extremely praiseworthy event will become successful with the participation of young South Asian economists, faculty members and renowned faces.
Wasik Sajid
---
Past SAESM Participants
Moogdho Mahzab
I have been privileged to be associated with SAESM from two different perspectives. First in 2006, when I presented my first research paper in the 3rd SAESM, and then in 2009, when University of Dhaka hosted the 6th SAESM and I played the role of a key organizer as a part of the student representative team. Since then Bangladesh has not hosted SAESM and thus, I am extremely glad that after almost nine years SANEM has brought SAESM back to Bangladesh. While organizing the event in 2009, I was very lucky to have mentors like Professor Selim Raihan and Professor Abul Barkat, who gave us the freedom to arrange the program according to our best judgment. The financial market was volatile at that time, recovering from the global financial crisis. Few of us were having innumerable meetings with the private banks to convince them to put funds to our event. Others were busy developing a nice SAESM magazine. Our hard work paid off when none other than Professor Amartya Sen gave his consent to reprint one of his articles in our magazine! I still vividly remember the first day of the event. I wrote a short speech to deliver in the inauguration session. There are so many things that I wish I could write to help the future organizers stage a great event like SAESM 2009. I worked in the top research institutions in Bangladesh after I completed my degrees from the University of Dhaka. I achieved the prestigious US Fulbright Scholarship to pursue masters in the USA and now doing my Ph.D. in Economics at the University of Virginia. Looking back, I could definitely say, SAESM actually instigated my passion and enthusiasm to pursue a career as an Economist. It is not at all surprising that all the previous SAESM participants have gone and made an excellent career in research, academia and in policy making. It was great when a recent SANEM- WB organized conference in Washington D.C. this year brought the ex-participants of SAESM together in a session where we brainstormed and presented our works on SDG challenges in South Asia. By creating a platform to bring all the present and past SAESM participants together, we can use the unlimited potential of all the young economists and surely make South Asia as one of the finest regions on earth! Good luck to the organizers and participants of SAESM 2018!